This new version of MacDraft is the faster and better than ever before
You will be creating useful drawings in no time using all the benefits of the new features:
The customizable toolbar saves you time going to the menus for frequently used commands. The drag and drop library palette makes finding items easier and so its much faster to use than previous library utilities. The new layers palette stays visible all the time amd gives constant feedback of which layer you are editing simplifying operations.
Images should not need to be preprocessed now with the image menu and new resize palette for images bringing more functionality within MacDraft. We have added new templates and sample libraries to help you get started with ease.
Combine these with the new coordinate system, larger drawing size, better rulers, customizable scales and the clipped text feedback and you have the simplest and fastest 2D CAD program on the market with the genuine easy to learn Macintosh interface.
What's new in version 6.0.5?
Support for AutoCAD AC1024 (2010/2011/2012) DWG files, along with improved functionality when reading the DWG files. MacDraft now has an improved method for renaming layers and library items by incorporating a Rename option in the drop down menus in both the Layers and Library palettes. Issues that were found with Mac OSX Lion have been resolved and many other changes have been made which improve the performance and stability. Legacy issues from previous versions have also been addressed in this update.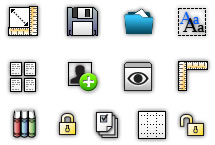 Customizable Toolbar
One new feature which will be most obvious will be the customizable toolbar which is a common in just about any application. A large number of commonly used menu commands and options can be accessed from there, greatly increasing the speed of working and therefore the drawing efficiency.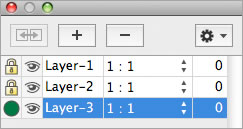 Layers Palette
We have introduced a new layers palette to replace the old layers dialog, bringing Macdraft up to a more familiar standard for interfacing. This allows for easier manipulation of documents with multiple layers and now that the layers are constantly in view as a palette, it gives a continuous indication of what is showing in a document. You have complete control over the layers, allowing for them to be made Visible, Grayed or Invisible. You can also merge layers, which is now undoable.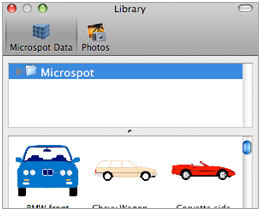 Library Palette
A new library palette has been introduced which makes working with symbol libraries and images much easier than before. The library palette is the same as used in the Microspot Interiors applications and makes access to multiple libraries very fast and easy with the drag and drop feature. It also works with iPhoto, meaning that your photos are automatically usable from within MacDraft and images can be dragged from your desktop or anywhere outside of the application.

Image menu
The handling of images has been vastly improved with the addition of the Image menu, containing many new controls for image manipulation ranging from adjusting the Brightness/Contrast/RGB to applying a selection of Filters. This means that images will no longer need to be pre-processed in other image editing applications, saving enormous amounts of time. You can also export the selected image in many different formats for use in other applications.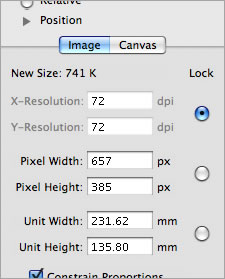 Improved Resize palette
Image resizing can sometimes be complicated, especially when printing is involved. It is important that you have absolute control over all of the image aspects. The new Resize palette gives you this control allowing for manipulation of the DPI, Pixel size and Unit size. The canvas can also be edited allowing borders and transparencies to be edited along with a very precise cropping facility.





Increased maximum Drawing size
The new file format has allowed us to increase the maximum drawing size to over 14 feet 10 inches (4.5m) square. This is 10 times the area of the previous version of MacDraft meaning you can put more than one large drawing on a sheet and so, simplifying the drawing process.
New co-ordinate system
The new coordinate system may not be immediately apparent, however its implementation has allowed for a more precise drawing system. The size of drawing now adjusts to the LCD monitor resolution, meaning that we can display the size of a page more realistically, as one inch on the screen is now closer to one physical inch. This in turn makes drawing easier and faster without the need to use the zoom functions to adjust the size of your document.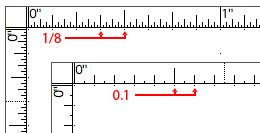 New ruler layout
Rulers are now displayed larger on higher resolution screens and have more realistic and useful divisions that adapt depending on the scale and units you have selected. Now decimal values are divided into 10 increments and fractional are divided into 8, making them more practical and easier to use than before.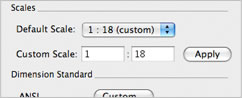 Customizable scales
The addition of customizable scales has meant that you have complete control over the scales that you use in your drawings. Allowing you to fill in any gaps in the default scales, making MacDraft much more flexible.
Simplifying the drawing experience
The drawing of objects can now be started by a click of the mouse button instead of a drag, bringing Macdraft into line with other drawing applications. Objects can also be duplicated by using the common shortcut Option-Drag, and duplications can be constrained by including the Shift key.
Feedback for clipped text
To prevent the loss of text when printing we have introduced paragraph text feedback, so than when text will not fit in the text box or may be obscured when printing, a red box will appear around it and a dialog will appear when trying to print. This option can be turned on and off via the Text menu and helps to prevent printing with incomplete text, saving time, paper and ink.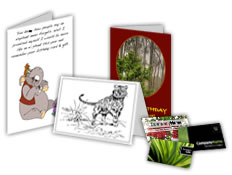 Plenty of Templates & Samples to help you on your way
We have included a large number of useful templates to help you start using MacDraft. Whatever reason you are using Macdraft for, may it be drafting or graphic work, we have templates from CAD layouts to birthday and business cards. You can also take advantage of the sample documents and a selection of sample symbol libraries. Never before has Macdraft included so many extras, making designs and layouts much easier and faster.