3D Rendering Software
Microspot Interiors Professional and Interiors, our acclaimed 3D rendering software, provide a fantastic way for both the first time home user and the professional to quickly and easily visualize interior home designs.
3D Rendering Software for Mac
Microspot Interiors Profressional brings the power of 3D rendering software at a cost-effective price. Whether you just want to see what your kitchen will look like with a fresh coat of paint or completely re-design an entire room, Interiors provides the tools and resources to turn your ideas into an interactive 3D design. Interiors provides thousands of furniture items, textures and more. Drag and drop library items, it's as simple as that! Check out our gallery for some examples.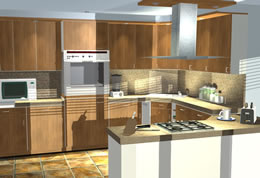 Take a stroll through your virtual design
Once you have created your design masterpiece you are going to want to show it off right?! Interiors lets you do just that using our Animation tools, not only do they enable you to set a path for the camera to follow through your designs but you can also animate individual objects to create some great effects. Once your animation is ready you can export it as a Quicktime movie.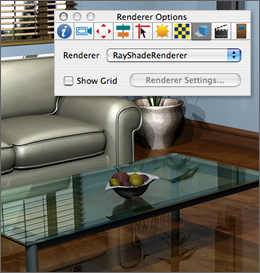 Adding a touch of rendered realism
Once you have finished laying out your room designs in Interiors Pro the final stage will be to render the room to show shadows and lighting ready for high resolution export. For this we provide the Microspot Renderer and now for reflections we have the new RayShade renderer. Once rendered you have the option to export your room as a high resolution image i.e. jpeg, gif, tiff etc
For more information about our 3D rendering software, have a look at at our Interiors Professional page.

We also offer Interiors, which offers many of the same features as the professional version.