Home Design Mac
Microspot offers powerful and easy to use software for home designs, interiors, and much more.
Home Design Mac Software with Interiors Professional
Microspot Interiors Professional was created with the professional interior designer and the home user in mind. The power of interior design has never been so easy. With home design Mac programs from Microspot, you can create walls and dimensions in a snap, drag and drop furniture and other fixtures from the thousands of library items available. Use our advanced wall drawing tools to layout the shape of your room, color or texture walls, floors and ceilings, add windows, doors and lighting, then simply drag and drop in the furniture you require, finally why not export a hi-resolution rendered image or create a walk through movie!

Interiors makes it simple for even the 3D novice to quickly produce impressive results. Interiors has support for importing the 3DS file format and Google Sketchup. This gives you access to the many thousands of 3D models available in these formats on the internet. Check out our gallery for some Interiors examples.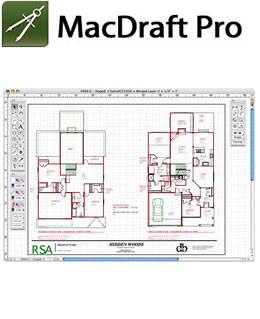 MacDraft for CAD operations
MacDraft Professional, powerful 2D CAD, drafting, technical illustration, architectural drawing and home design Mac software in one easy-to-use, CAD software package. If you are looking to create home designs, MacDraft will provide you with all of the power of CAD drafting applications at a fraction of the cost of other programs. The right tools for the job whatever it may be. The Tool palette offers a full complement of drawing tools including lines, rectangles, circles, arcs, polygons, curves, parallel line and freehand tools. Parallel line and polygon tools make it easy to create exterior walls. Add interior walls with a mouse click using the parallel extrude tool.
Look for more in-depth details about creating home designs with Microspot products on our products page.
Look for more in-depth details about our graphic design software for Mac on our Interiors Professional product page.
We also offer Interiors, which offers many of the same features as the professional version.
For MacDraft Professional, have a look here.
For MacDraft Personal Edition, check out this information.