Graphic Design Software
Envision and create interior designs in 3D with Interiors, the powerful graphic design software from Microspot.
Graphic Design Software for Mac Users
Professional designers are increasingly turning to Interiors Professional and its intuitive 3D design for its use as a presentation tool in order to create accurate visualizations of rooms before they are actually renovated, furnished or decorated. Home owners use our graphic design software because it provides exceptional 3D designs without the need for prior experience with a 3D program. Check out our gallery for some examples.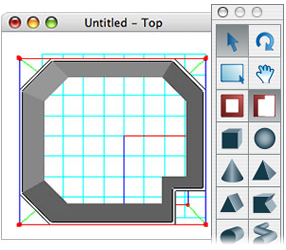 Harness the power
Interiors Professional provides users with a powerful set of tools which can design rooms from scratch. Design the shape of your rooms, add fixtures such as doors, windows, paint and much more. Add lighting and shading. The viewing function provides 360 degree control, and you can virtually stand in the center of the room and spin it slowly around you. This three dimensional quality provides users with a far greater appreciation of a space than a set of flat 2D images.
Look for more in-depth details about our graphic design software for Mac on our Interiors Professional product page.

We also offer Interiors, which offers many of the same features as the professional version.